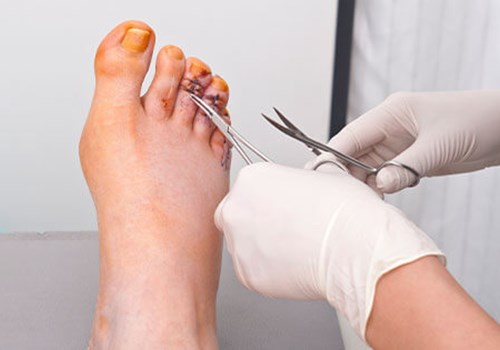 Fully Certified Foot Surgery Facility
With surgical privileges at the Alberta Surgical Centre and a private accredited surgical suite inspected and certified by the College of Podiatric Physicians of Alberta. Almost all surgical procedures of the foot can be accomplished with minimal delay under local or full anesthesia. In most cases foot and ankle surgery can be performed on a same day outpatient basis.

Step Ahead offers leading edge treatment approaches and clinical facilities to treat and perform foot surgery as well as all other foot ailments. 
Contact us for a consultation today!
Medical and Surgical treatment of:
Accessory Navicular Syndrome
Achilles Tendon Disorders
Achilles Tendon Rupture
Acute Inflammation
Ankle Fracture
Ankle Pain
Ankle Sprain
Ankle Tendon Injuries
Arch Pain
Arch Supports
Arthritic Big Toe
Arthritis of the Foot and Ankle
Athlete's Foot (Tinea Pedis)
Black Toenails
Bone Healing
Broken Ankle
Broken Heel
Broken Toe
Bunionette
Bunions
Calf Pain
Callus
Cavus Foot (High-Arched Foot)
Charcot Foot (Diabetic Arthritic Foot)
Chronic Ankle Instability
Cold Feet
Contact Dermatitis of the Foot
Corns
Cracked Heels
Crooked Toes
Crossover Toe
Crutches: A "How-To" Guide
Custom Orthotic Devices
Cyst
Deep Vein Thrombosis
Diabetic Arthritic Foot
Diabetic Complications and Amputation Prevention
Diabetic Foot Care Guidelines
Diabetic Peripheral Neuropathy
Diabetic Shoes
Eczema of the Foot
Equinus
Extra Bones
Fallen Arches
Flatfoot (Adult acquired)
Flatfoot (Children)
Flatfoot (Flexible)
Foot Bumps
Foot Fracture
Foot Lumps
Foot Neuroma
Foot Odor (Bromhydrosis)
Foot Rash
Fractures of the Calcaneus (Heel Bone Fractures)
Fractures of the Fifth Metatarsal
Ganglion Cyst
Gout
Haglund's Deformity ("Pump Bump")
Hallux Rigidus (Stiff Big Toe)
Hammertoes (Crooked Toes)
Heel bone fracture
Heel Pain
Heel Pain (Children)
High-Arched Foot
Ingrown Toenails
Joint Pain in the Foot
Joint Swelling in the Foot
Lisfranc Injuries
Malignant Melanoma of the Foot
Morton's Neuroma
Nail Fungus
Neuroma
Os Trigonum Syndrome
Osteoarthritis of the Foot and Ankle
Pediatric Flatfoot
Pediatric Heel Pain
Peripheral Arterial Disease (P.A.D.)
Peroneal (Ankle) Tendon Injuries
Plantar Fasciitis (Heel Pain)
Plantar Fibroma
Plantar Wart
Puncture Wounds
Restless Legs
Rocker Bottom Foot
Sesamoid Injuries in the Foot
Sever's Disease
Shin Splints
Shoe Inserts
Soft Tissue Biopsy
Stiff Big Toe
Smelly Feet
Stress Fracture in the Foot
Sweaty Feet (Hyperhydrosis)
Swollen Ankles
Swollen Feet
Tailor's Bunion
Talar Dome Lesion
Tarsal Coalition
Tarsal Tunnel Syndrome (similar to carpal tunnel of the hand)
Thick Toenails
Tingly Feet
Tired Feet
Toe and Metatarsal Fractures
Turf Toe
Verruca Plantaris (Plantar Wart)
Weak Ankles
White Toenails
Yellow Toenails
Step Ahead Podiatry Is Committed To Helping You Gain The Freedom To Walk Pain Free Again...