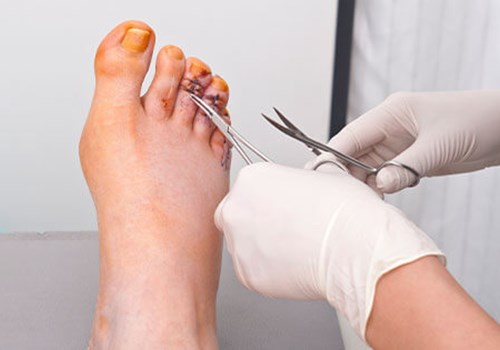 Out Of Province Foot Surgery
At Step Ahead Podiatry, we frequently welcome out of province patients to our clinic.
For patients who are traveling from out of town to see Dr. Patel, our staff will make every effort to accommodate you. Dr. Patel prefers that patients arrive at least three days prior to surgery. This will allow Dr. Patel and our staff to meet with you in person and go over any questions or concerns that you may have.You should allow sufficient time in Edmonton for your recovery. Recovery time duration, of course, depends on the extent of surgery you have. In general, most patients are able to travel 1 - 2 weeks following surgery.  Dr.  Patel will review your treatment and travel plans, and then determine when it is safe for you to travel.
Our goal is to make your experience as comfortable and rewarding as possible.
We are happy to assist patients from out of province with all their out of town needs such as:
Arrange travel
Arrange accommodations
Arrange transportation to and from the clinic
Arrange meal delivery
Foot Surgery Facility
Dr. Patel is a registered member of the College of Podiatric Physicians of Alberta. With surgical privileges at the Alberta Surgical Centre and a private certified surgical suite, almost all surgical procedures of the foot can be accomplished with minimal delay under local or full anesthesia.
In most cases foot and ankle surgery can be performed on a same day outpatient basis.
Step Ahead offers leading edge treatment approaches and clinical facilities to treat and perform surgery as well as all other foot ailments. 
Contact us for a consultation today!
Frequently Asked Questions About Foot Surgery
Foot Surgery FAQ
Do I need to have surgery? 
What would happen if I wait six months? One year?
What complications can occur with this kind of surgery?
How many of these surgeries have you done?
What is the expected recovery time?
How many days, or will I be in the Hospital/clinic after surgery?
Will I have physical therapy? If so, how often and for how long?
How soon will I be able to walk after surgery?
Will I need crutches or a walker? If so, for how long?
How soon will I be able to climb stairs after surgery?
When can I shower after surgery?
How soon will I be able to resume normal lifestyle activities (e.g., work, sports, housework)?
Are there lifting limits?
What are the potential risks of this surgery?