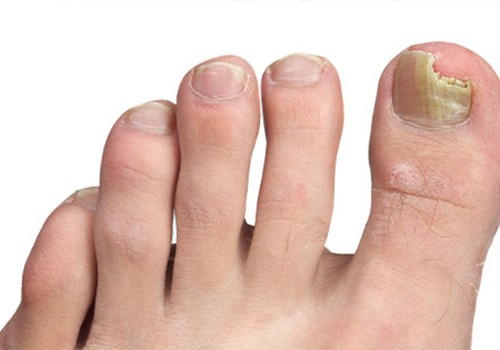 Nail Fungos (Onychomycosis)
Nail fungus, also called onychomycosis, is a common condition estimated to affect up to 10% of the population worldwide. It can cause nails to become yellow or discolored. As the infection advances the nail can become thick, brittle and separate from the nail bed. It can also cause pain when wearing shoes or walking.
Nail Fungus Treatment
There are a variety of nail treatments that we here at Step Ahead offer, our clinics across the greater Edmonton area are committed to the highest quality treatment and the most cutting edge technology to ensure you walk pain free again.
What is GenesisPlus?
GenesisPlus is a Nd:YAG 1064nm laser that has been cleared* to be both a safe and effective solution for the treatment of nail infection (onychomycosis), more commonly known as toenail fungus. This laser is also a safe and effective treatment for scar reduction and warts.
Where does nail infection come from?
Nail infection is caused by contact with dermatophytes which are everywhere in our environment. Common sources of infection include swimming pools, public showers, gyms and nail spas. Tight fitting shoes and nail trauma can also lead to infection. Genetic susceptibility, poor health and increasing age are also factors the risk of nail infection.
What are the symptoms of nail infection?
You may suffer from nail infection (onychomycosis) if you have one or more of the following symptoms:
Discoloured nails
Yellow streaks under the nails
Brittle, crumbly or ragged nail
Nails separated from the underlying skin
Buildup of debris (nail fragments, skin) under the nail
White spots or streaks on the nail surface
Gensis Plus Video